Buying an Ocean Edge Condo: How to Prevent Buyers Remorse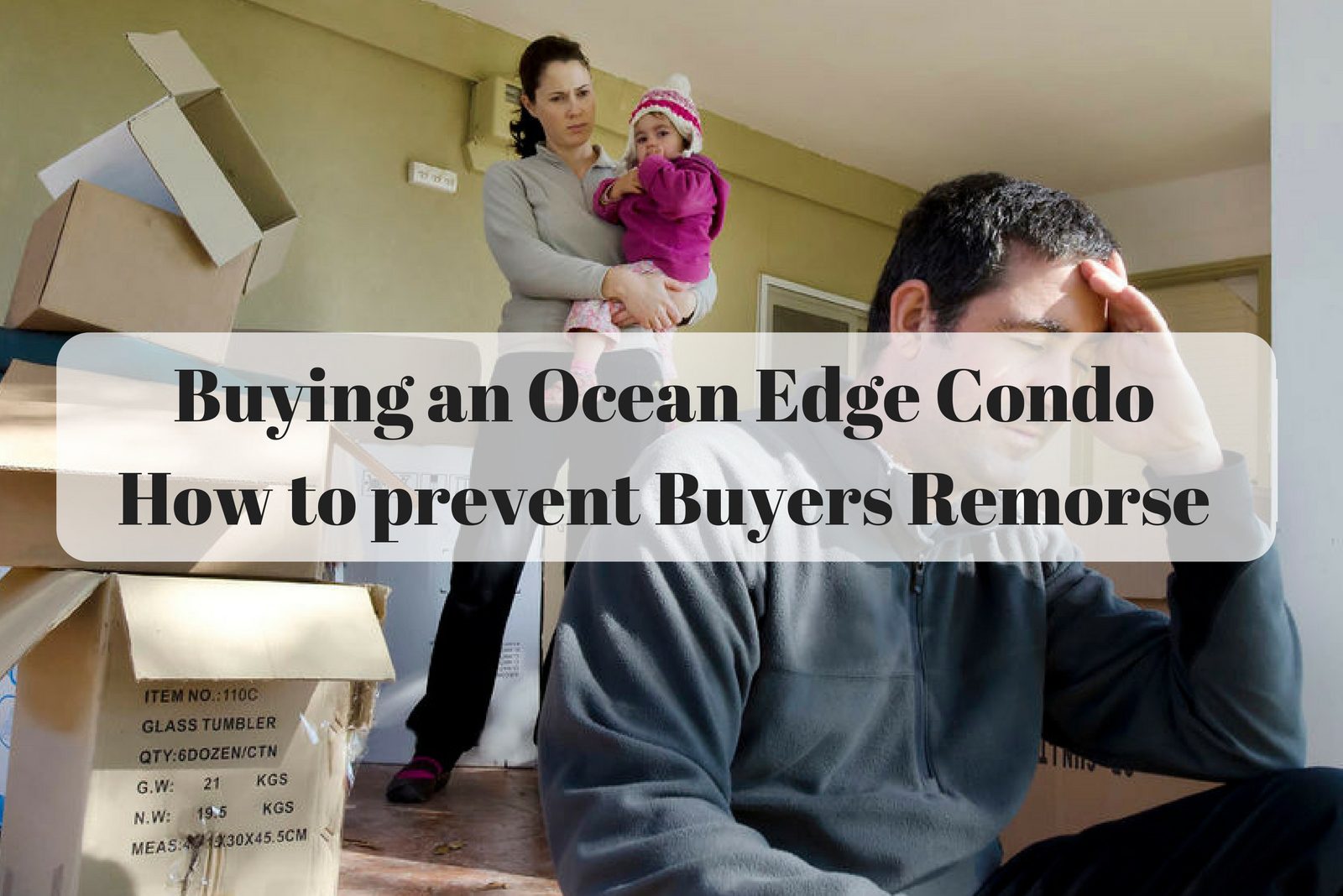 We have all experienced buyers remorse at one point or another in our lives. You see something in the store, you feel like you just have to have it so you buy it. When you come down from your little shopping high purchasing this coveted item, you start analyzing your purchase. Did you really need it? Did you need to spend the amount you spent on it? What are you going to do with it? How could you have spent your money better? Why didn't you comparative shop before making the leap? All of these questions swimming in your head could leave you feeling buyers remorse. Although it's not a desirable feeling to get after making a purchase, at least you are typically able to return your purchase for a refund or at least store credit if you realize your purchase was a mistake. When you buy a home, you can not just return your condo if you determine that your purchase was a mistake. Avoid feeling homeowner buyers remorse and ask yourself these questions before you pull the trigger on purchasing your Ocean Edge condo.
Is It All About Winning?
When a property has many desirable features, is priced competitively and marketed well, many times a bidding war will ensue. Sometimes people get so caught up in trying to outbid the other person to "win" the home that they don't really think about whether the home is worth it or not. They also don't consider whether they would be able to afford the home now with that the price has gone above their original offer. It always feels good to win, but if you're winning a home that you spent way too much money on and suddenly realize it, that feeling will definitely turn into buyers remorse. Keep a clear head if a bidding war starts. Determine what you are comfortable spending and stick with it. You might be able to pay a little more on the condo than you originally thought if the home is in good shape and you don't need to do any major upgrades or remodeling to make it your dream home. If the condo does need some work, it might be a good idea to hold back and let this property slip by. New properties will be listed on the market. The perfect condo that fits your needs and budget could be just around the corner. Check out our blog "Find Your Dream Condo at Ocean Edge."
How Familiar with the Condo are You?
One of the major reasons people feel buyers remorse after purchasing their home is because they are not completely familiar with the property before purchasing it. Sometimes surprises are fun, but when it comes to a home, unexpected surprises are not a good thing and can make you question why you bought your home. It's important that you visit the condo multiple times, and that you inspect it thoroughly before purchasing the home. How many times have you visited the house you are thinking about purchasing? Buying a home is a huge investment, and you want to make sure you are making the right decision. Take someone you trust to see the home, whether it be a family member or friend. Try to see the home unfurnished so you can imagine yourself and your belongings in the space. You want to be confident in your purchase, so take your time and visit the home as often as you need until you are sure that it is the right home for you.
Have You Seen the Condo Alone?
Go to the home and tour it alone so you can really pay attention to the condo and see how you feel about it without anyone else's opinion. If you've only been through the home with your significant other, trusted family member or friend, you might be feeling their excitement about the condo instead of your own. Are they talking you into what a great purchase this home is or do you believe it is the best place for you? Having your real estate agent there with you one on one to point out the positives and negatives of the property is always helpful. Their unbiased opinion and knowledge of the property and local real estate can help you make a more clear headed decision regarding the condo. After doing a walk through with your real estate agent, do a walk through by yourself. This will give you time to process what they said and see if it is a home that you can live with, flaws and all. When you're done with your walk through it is helpful to have your real estate agent there to ask any questions that may have come up during your home tour. Not sure if you are working with the right real estate agent? Check out our blog "5 Reasons to be Thankful for a Great Real Estate Agent" to make sure yours is making the grade.
Do You Have a Contingency for That?
When buying a home, it is important to have a safety net just in case things do not go as planned in the inspection, appraisal or while securing your mortgage. If you are working with a real estate agent, they will likely recommend that you put in a contingency for the home inspection for the property. This is the only way that you can walk away from purchasing the condo if there is something really wrong with the property that is found during the home inspection. If you do not include the contingency regarding the home inspection, the property could be a total loss but you would still have to purchase it. If there is something wrong with the property that the inspection uncovers and you have that contingency in place, you have the opportunity to then walk away from the sale. Check out our blog "Top Home Buyers Fears and How to Face Them" which will discuss contingencies and other ways to protect yourself when buying your home.
How to Prevent Ocean Edge Buyers Remorse
Buyers remorse is a feeling that no one likes to get when they are making a large purchase. A home is most likely the largest purchase you will make in your life, and it is the worst purchase to regret because you can not return the home if you decide it was a bad idea. By taking the time to ask yourself the above questions, you could save yourself from living with regret over making the wrong purchase or the hassle of trying to sell your condo once you realize that it is not for you.
https://www.oceanedge.net/wp-content/uploads/2016/12/Buying-an-Ocean-Edge-Condo-How-To-Prevent-Buyers-Remorse.jpg
1068
1600
Leighton Team
https://www.oceanedge.net/wp-content/uploads/2022/07/Leighton-Team-KW-Combined-Transparent-1.png
Leighton Team
2016-12-16 11:49:11
2016-12-16 11:49:11
Buying an Ocean Edge Condo: How to Prevent Buyers Remorse